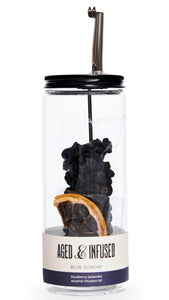 Mmmm, who doesn't love the floral sweetness of lavender, blueberries, and tangy lemon infused with their favorite spirit? This universal infusion medley is a classic that deserves a front row seat on any bar cart. Pro tip: it's best enjoyed while playing "Blue Sunday" by The Doors, propped up in your favorite chair on the front porch. 
Ingredients: Dehydrated blueberries, dehydrated lemon, dried lavender

Recommended Spirits: Whiskey, Vodka, Gin
Our signature kit includes a 16 oz glass jar with a custom filtering pour spout, pre-measured ingredients, infusion instructions and cocktail recipes.
Packaged in a facility that handles tree nuts, dairy products and soy. 
Infusing with our kits is simple! Just add your pre-measured ingredients into the jar, fill with your favorite spirit and seal for at least three days. Once you're ready to enjoy, simply pour on the rocks or into a cocktail.
Each Aged & Infused kit infuses 16 oz of booze - enough for 7-8 cocktails depending on how strong you like your drink!