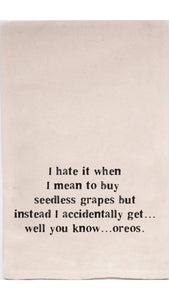 This towel reads "I hate it when I mean to buy seedless grapes but instead I accidentally get... well you know... oreos."
Printed by hand (by all female team!) in Michigan

100% unbleached cotton

24" x 26" when opened up

Can be thrown in the washer and dryer

They're printed with an eco-friendly, water-based ink, that's good for the environment and soft to the touch!