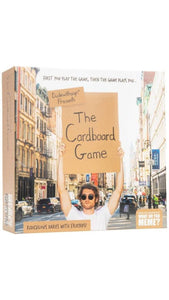 He took the internet by storm and now he's taking over game night. Packed with ridiculous dares, this adult party game guarantees a night of hilarity that you and your friends won't soon forget (or live down)! With 300 Dare cards and 50 Wild cards, no two games are the ever the same. So call up the crew, order a pizza, and get ready to get ridiculous – game night has never been better!
Ages 17+ This game is not intended for children. Trust us on this one!

3-20+ players needed. Call up your friends and get playing!

Includes: 300 Dare Cards, 50 Wild Cards, 2 Markers, 1 Dude Coin, 1 Piece of Cardboard for playing, and instructions

How to play: Flip the coin and let fate decide your dare!