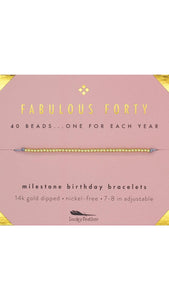 This dainty bracelet is the perfect way to celebrate any fabulous forty-year-old's birthday. There are 40 beads, one for each remarkable year of life!
Simply chic milestone bracelets, perfect for celebrating every year of life! Gift it or keep it, either way, it is a unique way to celebrate an important milestone. 
Each bead is dipped in 14k gold
Nickel free
Bracelet cord is adjustable 7-8"