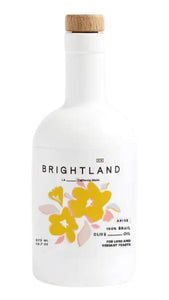 From the golden state of California, Brightland's Arise is lovingly made from fresh basil expertly milled with arbonsana olives. Bursting with basil flavor, this superfood brightens and nourishes, body and soul.
Tasting notes: smooth, herbaceous, warm and peppery, with hints of clove and undertones of mint and anise.

 Arise comes in a 375 ML/12.7 fl oz glass bottle that has been uv-coated to protect the basil olive oil from damaging light.

Arise's label was crafted in collaboration with New York-based renowned fashion designer and artist Peter Som, and was inspired by blooming of spring produce and warm-weather entertaining. Som's use of warhol-style flowers with heavy shadows, signature to his work in fashion, reinforce a sense of movement and arising.