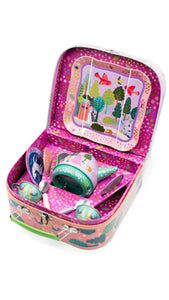 A magical Fairy Tale Musical Tea Set is the perfect excuse for an afternoon tea party. The brightly colored box contains illustrations of princesses, dragons, fairy tale towers, pumpkin carriages and more.
The tea set includes:
A fantastic musical teapot (turn the winder underneath to play teddybears picnic' as you pour tea for your guests)
Two cups, two saucers, two plates, and one tray
The tea set's pretty box comes with a carry handle making it easy to take from place-to-place.
Handy carry case to store everything away.
Tea set box size: 7" x 8.5" x 4.8"
Recommended for 3+ years