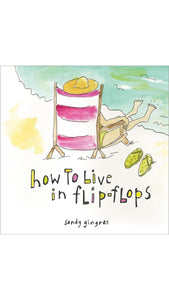 64-page hardcover.
In How to Live in Flip Flops, Sandy Gingras helps readers forget the complicated in favor of the simple, wonderful things in life. Gingras's delightful watercolors and poetic prose showcase the benefits of slowing down and finding happiness in the things that really matter. Whether or not you're at the beach, everyone can relate to the laid-back easiness that comes with living in flip flops.
Includes charming maxims such as:

Lose the uncomfortable shoes
Be thankful
Smell like a coconut
Hard edges soften

This is the perfect gift for family and friends -- whether for those who already embrace an easygoing harmony with the world or for those who need a gentle reminder of what's truly important.