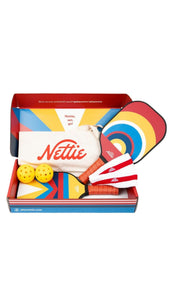 2 pickleball paddles
2 pickleballs. Because sometimes one ball rolls away.  
2 sweatbands. You're gonna look great. 
All paddles are superior quality and designed for pickleball players of all ages and abilities. Nettie paddles are premium plastic with a honeycomb core and a comfy durable sweat-proof grip. 8.0 oz in weight.