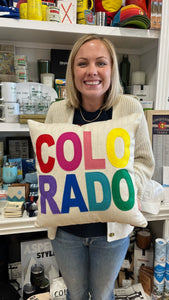 Introducing the Rainbow CO Pillow: your cozy companion for camping trips, snuggling up on the couch, or sprucing up your bed! This vibrant pillow features colorful COLORADO and is sure to become your go-to for when your relaxation game is off the charts!
Linen + cotton slub fabric (85% cotton, 15% linen)

Letters cut from wool blend felt

Colorful zipper closure

Case measures approximately 16" x 16"