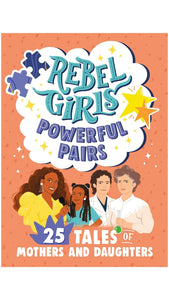 What do Beyoncé and Blue Ivy and Emmeline and Christabel Pankhurst have in common? What about Julie Andrews and Emma Walton Hamilton and Karen E. Laine and Mina Starsiak Hawk? They're all incredible mother-daughter duos who have used their creativity, cleverness, and unique talents to do something remarkable—and they are all featured in Rebel Girls Powerful Pairs: 25 Tales of Mothers and Daughters. Readers will celebrate the strength of family bonds through the inspiring fairytale-like stories of authors, activists, skiers, dancers, pilots, hikers, humanitarians, entrepreneurs, and more. Powerful Pairs is part of the award-winning Good Night Stories for Rebel Girls series.
Celebrate singing and songwriting with Beyoncé and Blue Ivy. Save frontline soldiers with Marie Curie and Irene Joliot-Curie. And swim across the English Channel with Leena and Bhakti Sharma. Rebel Girls Powerful Pairs showcases many of the wonderful ways mothers and daughters work together to make the world a better, healthier, and more vibrant place.
This collection of 25 stories follows in the footsteps of the best-selling series Good Night Stories for Rebel Girls. It is illustrated by female and nonbinary artists from around the world.
Unlock bonus audio stories of some of the extraordinary women and girls featured in this book on the Rebel Girls app. Whenever you come across a bookmark icon on the page, scan the QR code, and you'll be whisked away on an audio adventure! You'll also discover 100+ creative activities and stories of even more trailblazing women on the app.