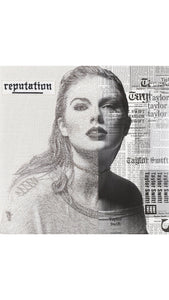 The albums take up to 8 hours to embroider and can contain over 200,000 stitches. The series is created and designed to be hung together so you can add to your installation wall as you discover new pieces I create. Each of the albums comes with a signed certificate and is framed in acrylic and measures 12" x 12" x 2". 
Embroidery stitched directly through a vinyl record sleeve.
12x12x2 inches, framed in acrylic.
Upcycled: 

 

Designed and crafted with a modern eye and luxurious up-cycled materials. These reimagined pieces have their own unique style. 

Embroidery: 

 

An exquisite blend of hand-digitized embroidery, collage and assemblage goes into each and every piece. 

Framing: 

 

Pieces are framed in clear acrylic ready for display and presented in luxurious packaging.